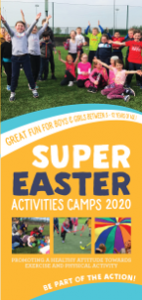 Fitness by design are proud to offer a fun packed all action activities programme for children aged 5-11
years of age during this years Easter Camp 2020
As well as having great fun and meeting new friends, your child will enjoy an exciting camp programme in a safe environment.
All activities are taught by experienced camp leaders.
We pride ourselves on offering great value for money
and ultimately providing a memorable experience for
your child.
We very much look forward to meeting you at this year's
Easter camps.