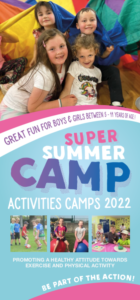 Super Summer Activities Camp 2022
Dear Parent. We are delighted to inform you that 'Super Summer Activities Camps' will take place this year in accordance with continued health and safety guidance issued by the HSE and our Government.
In order to keep each participant, parent and staff member safe during our camps we have  a number of health and safety protocols. As a result of these measures our camps will still be amazing, fun and entertainment for your child but will require your cooperation and
understanding as we aim to make them a safe and enjoyable experience for each participant.