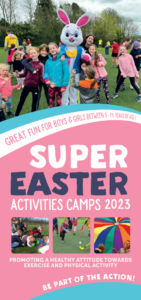 Super Eater Activities Camp 2023
Welcome to Super Easter Camps 2023. The following information below and the links above will display all the details that you require
Benefits of sending you child to one of our camps this Easter….
Make New Friends: Easter camp is a place where children make new friends  They get the opportunity to perform several activities together like painting, dancing, drawing and playing indoor/outdoor games to name a few.
Grow More Independent: Being away from home children need to take their own decisions without their parents' and teachers' guidance. They learn to manage their daily chores and activities in the safe and caring environment of the camp. They learn to act in a more responsible manner.
Develop Skills: Easter camps are a great way to enhance your skills. The variety of activities offered at Easter camps help children to discover and develop their interests.
Away from Technology: Getting engaged in the real world by staying away from technology, It encourages children to engage in real activities.
Self-Confidence: Easter camp helps children develop their self-esteem in the absence of academic and social competition that forms their school lives.
Physical Activity: Easter  camp life makes them physically more active as they participate in various physical activities such as , playing indoor/outdoor games and indulging in new adventures.
Learning Opportunities: Ester camps create many learning opportunities for kids whether its music, art or games. Learning in camps is more effective as it gives the kids more practical knowledge and real experience.